During checkout: select the "Orchid & Flask Orders" payment option.
You will be billed later.
Before you commit to buy, please read About Ordering
Laeliocattleya unnamed hybrid #2343 (Laelia speciosa 'Dark and Big' x Cattleya violacea 'Muse' FCC/AOS) (approximately 25 seedlings per flask).
The Hybrid: I expect a great hybrid from this cross. Laelia speciosa is a small plant, under 8" tall, with very large flowers, up to 6" across, are long-lasting and lightly fragrant. It is a cool to cold grower from Mexico that has a 4-5 month growing period in the late spring through early fall and requires a long dry rest with just an occassional misting to prevent shrivelling. Cattleya vioacea is widespread in South America where it grows at low elevations (150 to 700 ft) and gets rain througout the year. The plants can be from 4 to 8" tall and the fragrant flowers are up to 3.5" wide.
Culture: Since the cultural requirements for the two parents are radically different, it is hard to say what culture will be best. I would expect an adaptable plant
Capsule Parent: The seed for this cross was given to me by a friend who doesn't take photos, so I don't have an image of the capsule parent. Laelia speciosa (not the actual parent of this cross) to give a sense of the species.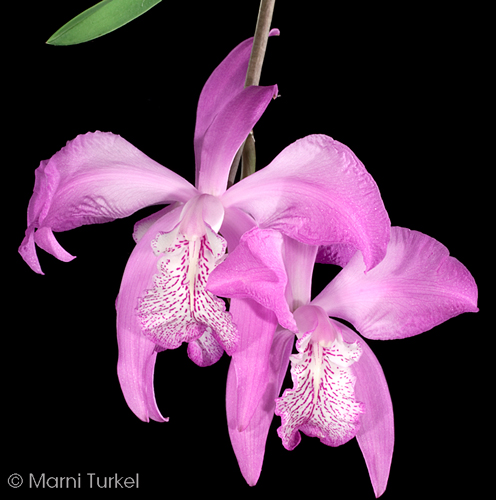 Pollen Parent: Cattleya violace 'Muse' FCC/AOS