During checkout: select the "Orchid & Flask Orders" payment option.
You will be billed later.
Before you commit to buy, please read About Ordering

Lycaste unnamed hybrid #91920 Treated (Lycaste Lemon Twist 'Ben' x Lycaste virginalis/skinneri alba '6797') (approximately 25 seedlings per flask). These seedlings have been treated to alter the chromosome count. This does not guarantee that they will be 4N. For more information go to Ploidy.
The Hybrid: The capsule parent is Lycaste Lemon Twist, which is a primary hybrid of Lycaste tricolor x cambellii, is a hybrid that was made by Ben Berliner and was registered in 2002. This plant is a division of one that Ben kept kept for his collection. It is a small lycaste plant, very floriferous and easy to grow. The pollen parent is a Lycaste virginalis/skinneri alba from an outcross that has consistently good shape and had 5 flowers on one pseudobulb on its first blooming.
Culture: Lycaste Lemon Twist will grow very well in intermediate conditions. It is a deciduous plant so should be rested with less watering during the winter months. Lycaste virginalis/skinneri does not get a pronounced dry rest. It grows in cool to intermediate conditions.
Capsule Parent: Lycaste Lemon Twist 'Ben'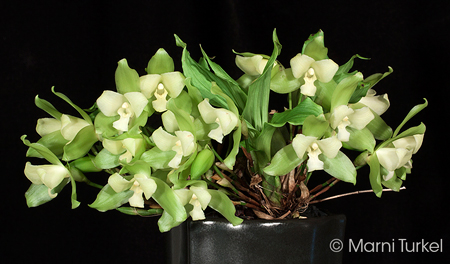 Pollen Parent: Lycaste skinneri '6797'