During checkout: select the "Orchid & Flask Orders" payment option.
You will be billed later.
Before you commit to buy, please read About Ordering

Lycaste unnamed hybrid #1826 (Lycaste virginalis/skinneri '6670' x angelae 'B.E.N.') (approximately 25 seedlings per flask).
The Hybrid: This Lycaste virginalis/skinneri is one of the best from an outcross I did some years ago. It is crossed with a wonderful clone of a charming species: Lycaste angelae 'B.E.N.' from Costa Rica. It is a close relative of Lycaste brevispatha.
Culture: I grow Lycaste virginalis/skinneri in intermediate conditions and year round water. Lycaste angelae is a deciduous species that I grow cool with ample water and fertilizer during the growing season. When the leaves start to yellow in the fall, I cut back on water and fertilizer until blooming in the spring and then the start watering process as the new growths start to open up. I would expect the hybrid could benefit from a lessening of water during the winter, but shouldn't need a really significant dry rest.
Capsule Parent: Lycaste virginalis/skinneri '6670'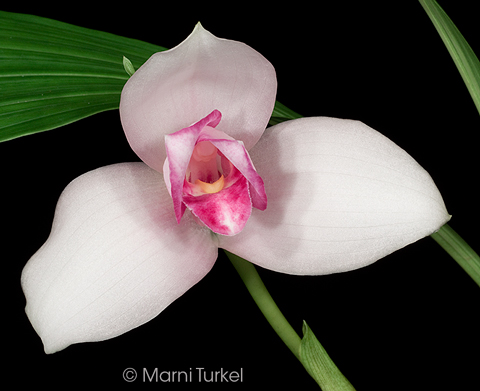 Pollen Parent: Lycaste angelae 'B.E.N.'