Sold out
Odontioda (Lautrix 'Tiffany' x Jaffa) #5244 (approximately 25 seedlings per flask). These seedlings have been treated to alter the chromosome count. This does not guarantee that they will be 4N. For more information go to Ploidy.
The Hybrid: A new hybrid of Odontioda (Lautrix 'Tiffany' x Jaffa). The material for this cross comes from Bob Hamilton of Hawk Hill Nursery. He is a well known hybridizer of Odontoglossum who has been working with these for 40 years. Expect brilliant reds, good flower count (more than 14) of moderate size. Both parents are vigorous growers.
Culture: This Odontioda hybrid will need cool to cool-intermediate temperatures to thrive. Moderate to moderately bright light. If the temperatures are cool they can do well with the moderately bright light. You don't want to give them so much light that the leaves feel warm to the touch. Give them year round water and dilute fertilizer. Traditionally grown in fine bark or bark mix.
Capsule Parent: Odontioda Lautrix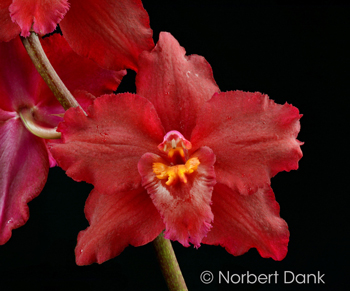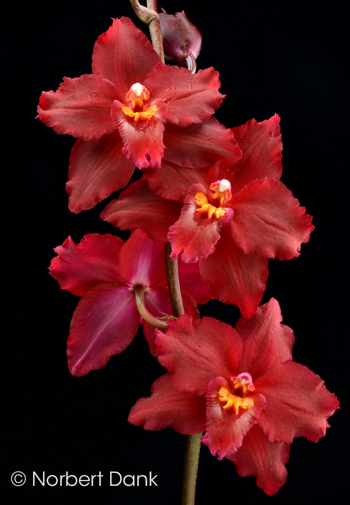 Pollen Parent: Odontioda Jaffa. Jaffa is a grex, the first Vellum hybrid and is a brilliant orange. It is named it for the mandarins in NZ that are imported from Jaffa, Isreal because of its color.