During checkout: select the "Orchid & Flask Orders" payment option.
You will be billed later.
Before you commit to buy, please read About Ordering
In the shopping cart: use your back button to return
Odontioda hybrid (St. Clement 'Mark Daniel' AM/AOS x Oda Prince Vultan 'Sue' AM/AOS) #5484 (approximately 25 seedlings per flask).
The Hybrid: A new hybrid of Odontioda (St. Clement 'Mark Daniel' AM/AOS x Oda Prince Vultan 'Sue' AM/AOS). The material for this cross comes from Bob Hamilton of Hawk Hill Nursery. He is a well known hybridizer of Odontoglossum who has been working with these for 40 years.
Culture: This Odontioda hybrid will need cool to cool-intermediate temperatures to thrive. Moderate to moderately bright light. If the temperatures are cool they can do well with the moderately bright light. You don't want to give them so much light that the leaves feel warm to the touch. Give them year round water and dilute fertilizer. Traditionally grown in fine bark or bark mix.
Capsule Parent: Odontioda St. Clement. Tom Perlite of Golden Gate Orchids describes his Oda St Clement 'Mark Daniel' AM/AOS as one of his finest breeders. Bob Hamilton says: Similar Oda Prince Vultan crosses have produced highly colored, exotically patterned flowers on long spikes. Given St. Clement is the female parent flowers should be good sized.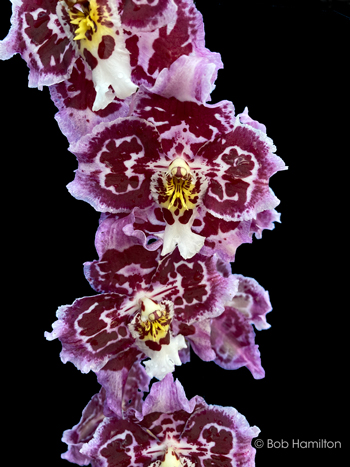 5480

Pollen Parent: Prince Vultan 'Sue' AM/AOS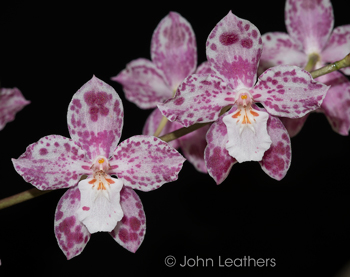 54