Sold Out
Pleione Confirmation, the intentional hybrid cross of P. praecox x P. maculata which is the same parentage as the naturla hybrid P. xlagenaria #551 (approximately 25 seedlings per flask).
The Hybrid: Both of the parents are fall blooming species. I have never seen xlagenaria (natural hybrid) except drawings and now photographs and wanted to see it in person so I made this cross. Neither of the parents come from as high an elevation as most pleiones that require a distinct chilling in winter. I find them both quite easy to grow and bloom. Pleione praecox can have flowers up to 5" across and has 2 flowers per spike when grown well. Pleione maculata is a smaller flower which an also have more than 1 flower per spike. Both parents are fragrant.
Culture: All pleiones need a dry rest in winter. I would try for temperatures no less than 50F minimum night during dormancy. Dormant plants do not need to be in the light. In the fall, the leaves begin to yellow and that is the sign to reduce watering. After most or all of the leaves are gone the bulbs will flower from what appears to be the base of the old bulb but is actually coming from the apex of a new growth. Do not water them now. The new growth is going to just sit there until spring when it will begin to grow. Do not overhead water until the new growth is no longer a funnel shape or it can rot. Water generously and fertilize during the growing season until fall approaches and then you can lessen a bit.
To see an image of the hybrid click here.
Capsule parent: Pleione praecox '5703' is the first image. The second image is of a different clone from the same source in a 3" planter.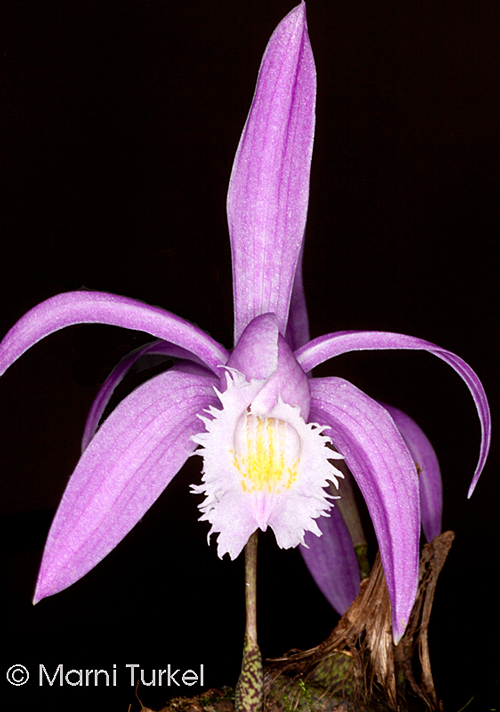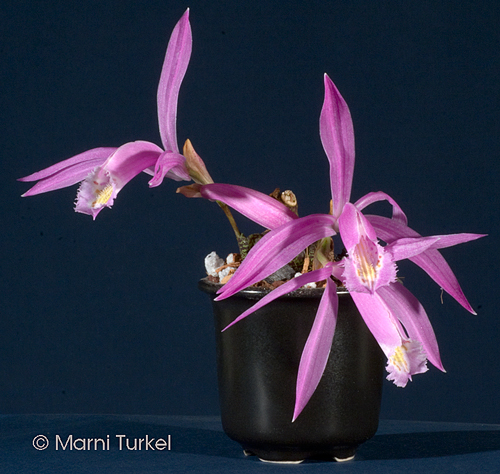 Pollen parent: Pleione maculata '5698'. The first images is a close-up of the pollen parent. The second image is another clone from a different source but it shows the potential for a nice blooming in a 3" pot.
.