During checkout: select the "Orchid & Flask Orders" payment option.
You will be billed later.
Before you commit to buy, please read About Ordering
In the shopping cart: use your back button to return
Sarcochilus hybrid yellow x yellow #4945 ([Madge x Parma] x [Parma x Roberta]) (approximately 25 seedlings per flask).
The Hybrid: In 2014 I imported some Sarcochilus seedlings from Australia. Two of my favorites where yellows that I used to make this unnamed hybrid. Of course, I am hoping for some nice yellows from this cross.
Culture: These can be grown potted in medium or fine bark, bark with red lava rock, bark with granite pieces as well as other mixtures. They will take a wide range of temperature and prefer moderately bright light. Water well in the growing season and let approach dryness between waterings.
Capsule Parent: Sarcochilus unnamed (Madge x Parma)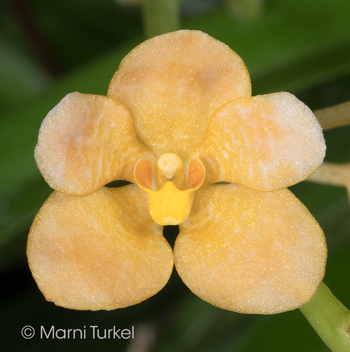 Pollen Parent: Sarcochilus unnamed (Parma x Roberta)