During checkout: select the "Orchid & Flask Orders" payment option.
You will be billed later.
Before you commit to buy, please read About Ordering
In the shopping cart: use your back button to return
Trichocentrum unnamed hybrid #2892 (Sonoma '4079' x albococcineum '4012') (approximately 25 seedlings per flask).
The Hybrid: This is an unbloomed and unnamed complex hybrid with Trichocentrum Sonoma (longicalcaratum x pulchrum) as the pollen parent. This hybrid has a strong influence from the influence from the Trctm Sonoma. It grows well in cool to intermediate conditions. The flowers are long lasting. The pollen parent is Trctm albococcineum, a wonderful species that growsin warm to intermediate conditions. I expect the hybrid to have some of the color from the Trctm albococcineum and be easy to grow in a variety of conditions. All of the parents in this complex cross are small, compact plants with sucullent foliage. All of the parents carry a single flower per inflorescense and bloom multiple times per year.
Culture: The Trctm Sonoma grows well in intermediate to cool condtions and the Trctm albococcineum grows in warm to intermediate temperatures. I would expect the hybrid to do well in a range of condtions. Two of the species in the hybrid grow in moderate shade and the Trctm albococcineum grows in moderately bright light. All like good humidity and good quality water. I water them almost daliy with dilute fertilizer and they are dry before the next watering.
Capsule parent: Trichocentrum Sonoma '4079'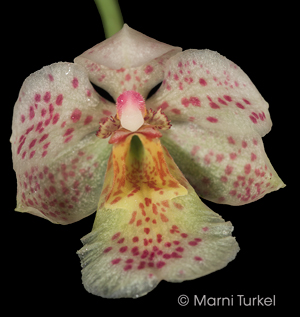 Pollen Parent: Trichocentrum albococcineum '4012'