On This Page: About Our Planters - Choosing Sizes - Planters and Drip Plates - Planter Measurements - Slip Pot Sizes
About Our Planters
Careful thought and years of experience go into the design and production of these fine hand crafted planters. Our planters are designed to promote healthy plant growth and to make the plant look its very best. You can plant directly in them. Each one has just enough flare in the sides to allow you to remove even a root-bound plant without damaging the root ball. They are made of high-fired stoneware clay so they are durable, non-porous, and chip resistant. Because our planters are not porous, they are less prone to salt build up, and that makes for a healthier plant. Plants potted in them should be watered the same as if they were potted in plastic. Our planters are glazed both inside and outside, so they are easy to clean and sterilize, giving years of use and pleasure. Since most plants resent poor drainage, we take the extra time to cut multiple holes to insure healthy root growth; the cut outs in the bottom foot ring provide air circulation under the planter. All planters are available in your choice of six colors. These colors have been chosen to enhance the natural beauty of the plant, not to compete with it. Slip a plant into a Stony Point pot and see how the plant takes center stage! Back to Top
About Planters and Drip Plates
We want you to get just what you want. Since not everyone wants or needs a drip plate, you can choose if you want just the planter or the planter with a matching drip plate. Though we don't have drip plates listed, they are also available individually. You can estimate the cost of any particular drip plate by subtracting the cost of the planter only from the price of the planter with drip plate. If you need to order a drip plate, we will be happy to help you.
About Choosing Planter Sizes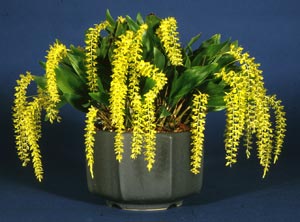 To give you the widest choice, we offer a variety of styles. To give just the right fit, each of the styles comes in various sizes. With so many sizes and shapes, choosing the right size can take a bit of work. To make it easier there is a Chart of Slip Pot Sizes below that lists a variety of round and square plastic pot sizes and tells which planter will accommodate them. Also, there are charts for each of the styles giving diameter and height for both inside and outside dimensions. These charts are accessible from each of the style pages. Back to Top
About Planter Measurements
Outside diameter is measured across the widest part of the rim. The "diameter" measurement on Cube and Pedestal Foot Square Planters is from the middle of one side to the middle of the opposite side, not the diagonal. Outside height is measured from the top of the rim to the surface the planter sits on and does not include drip plates. Inside diameter is measured across the widest part of the inside, just below the rim. Inside height is measured from the bottom inside to the top of the rim. Back to Top

Chart of Slip Pot Sizes
The chart below is designed to assist you in choosing planter sizes appropriate for various plastic pots. Every manufacturer of plastic pots seems to have slightly different dimensions and proportions. Where it seemed important, I have put an initial to designate a particular brand (K-Kord, A-Anderson, Mc-McConkey). I have included the plastic pots I encounter most often (which are all by West Coast manufacturers), and suggest planters from our line that will generally be a good fit and proportion for potted plants. You can, of course, pot directly into our planters. As a further aid to sizing, there is a chart of dimensions for each style of planters on the individual pages that give both outside and inside dimensions. Use the inside dimensions to determine slip-pot sizing. Back to Top
October 31, 2008. Please not that the new line of Simplicity Planters is not yet integrated into the chart below.
Plastic Pot Size:
Slip-Pot Into Planter:
Round:

1 Gallon Round

1 Gallon Octagon -- 1 Gallon Standard

7" Round Azalea (K)

1 Gallon Octagon* -- 1 Gallon Standard*

6 1/2" Round Azalea (K)

#1 Standard -- 1 Gallon Octagon*

6" Round

#2 Standard -- #2 Octagon -- #2 Tripod

5 1/2" Round

#2 or #2A Standard -- #2A Octagon -- 6" Pedestal Foot Square -- E-Cube -- #2A Tripod

5 1/4" Round (Mc)

#2 or #2A Standard -- #2A Octagon -- 6" Pedestal Foot Square -- #2A Tripod

4 1/2" Round Geranium (K)

#2B Standard -- #3 Standard -- D-Cube -- #2B Octagon -- #3 Octagon -- #3 Tripod

4" Round (K)

#3 Standard -- 5" Pedestal Foot Square -- #3 Octagon -- #3 Tripod

3 1/2" Round (K)

#5 Standard -- #7 Standard -- I-Cube

3" Round (K)

C-Cube -- #7 Planter -- 3 1/2" Pedestal Foot Square -- #8-Tall Octagon* -- #8-Tall Tripod*

2 1/2" Round (K)

#10 Standard -- #10 Octagon -- 3 1/4" Pedestal Foot Square -- #10 Tripod

2 1/4" Round (K)

#10 Standard -- #10 Octagon -- 3 1/4" Pedestal Foot Square -- #10 Tripod

Square:

4 1/2" Square (K)

#2B Standard -- #2B Octagon -- D-Cube

4 1/8" Square (Mc)

#2B Octagon -- D-Cube

4" Square (K)

#2B Standard -- #2B Octagon -- 5" Pedestal Foot Square

3 1/4" Square (Mc)

#3 Standard -- 5" Pedestal Foot Square -- I-Cube --#3 Octagon -- #3 Tripod

3" Square (K)

C-Cube -- #7 Planter -- 3 1/2"Pedestal Foot Square

2 3/4" Square (A)

C-Cube -- #7 Planter -- 3 1/2" Pedestal Foot Square -- #8-Tall Octagon* -- #8-Tall Tripod*

2 1/4" Square (A)

#10 Octagon -- 3 1/4" Pedestal Foot Square -- #8-Tall Octagon* -- #8-Tall Tripod*

2 1/4" Square Rose Pot (Extra-deep)

#8-Tall Octagon -- #8-Tall Tripod

2 1/4" Square (K)

#10 Standard -- #10 Octagon -- B-Cube -- #10 Tripod

2" Square (A)

#10 Standard -- #10 Octagon -- B-Cube -- #10 Tripod

*This planter fits the diameter, but will need something underneath it to raise the potted plant up in order to look right. Pebbles, styrofoam peanuts, a plastic cup or container, etc will work. Back to Top