Papua New Guinea is the home of many interesting and desirable Dendrobium species such as those of section Oxyglossum, whose flowers are noted for being colorful and ex-ceptionally long lasting, but many of the plants can be a challenge to grow.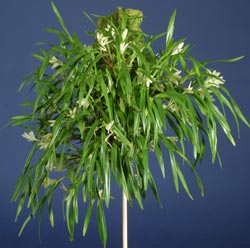 Dendrobium pentapterum
Generally acknowledged as being the easiest of this section to cultivate, Dendrobium pentapterum is a compact, upright plant from 3 to 8 inches (7.5 to 20 cm) tall. The 13/8-inch- (3.5-cm-) long flowers, which are nestled among the leaves, are wedge-shaped when fully open. They are sometimes described as looking like a jet plane on takeoff. The flowers open a greenish white and fade to a creamy white as they age. The greenish lip has a bright contrast of orange to orange-red at the apex. It is this colorful lip that gives the name to this group — Oxyglossum means blood-colored tongue. The inflorescence arises from the apex of the pseudobulb and is usually single flowered, but can have up to three flowers.

In the past, different species of this group were frequently confused with one another. Recently, researchers have found that the sometimes intricate patterns formed by a cross-sectional view of the ovary (the part just below the flower that will produce seed if pollinated) are a good tool for differentiating otherwise similar species. The name pentapterum (pronounced pen TAP tur um) means five-winged and refers to the five main wings of the ovary.

Dendrobium pentapterum occurs as an epiphyte in mountain cloud forests at elevational ranges of 2,625 to 6,562 feet (800 to 2,000 m). It is found in local abundance in limited parts of northeast Papua New Guinea, and it has recently been documented in the Philippines (Cootes, 2001). The recorded temperatures for one population growing at 5,141 feet (1,567 m) has days averaging 76 to 79 F (24 to 26 C) and nights of 56 to 60 F (13 to 16 C). Recorded extreme temperatures at this location are 43 F (6 C) and 87 F (31 C).
The plant shown above was grown in a cool greenhouse with 52 F (11 C) minimum winter nights and 80 F (27 C) maximum days where the average daytime temperature is in the low to mid 70s F (21 C). It was in a somewhat shady location that is directly in the path of an oscillating fan that operates 24 hours per day.
In nature, this species can be found in moderate shade to bright light, but in a greenhouse, some shading is suggested to avoid heat build-up. In cultivation, generally recommended conditions are for intermediate temperatures similar to those for the recorded data given above. In New Guinea, this species receives less rain during the winter months, but not a total dry rest because there is still some rain and a lot of mist to provide moisture. If the humidity is in the 60 to 70 percent range, mounted plants do well. They usually require daily watering for most of the year with less-frequent watering in the winter. To avoid heat stress, afternoon misting is beneficial on days when the temperature is high or the humidity is low.
When I mount the plants on cork or other bark, I use a little moisture-retentive material (as opposed to a big compacted wad) on top of the roots but not between the roots and the bark. If using tree fern, which holds moisture longer than bark, I put a small piece of moss on the roots to begin with and then take the moss away once the plant is established, thereby avoiding overly wet conditions at the base later on. This mounting technique works under my conditions, but you may need to adapt it for your particular situation.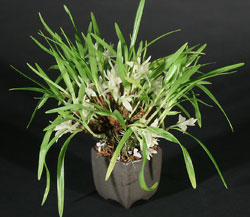 Dendrobium pentapterum 'Ron'
For potted plants, I have had good success with a fine seedling bark mix (sifted ¼-inch [.64 cm] fir bark with perlite, tree-fern fiber and a little horticultural charcoal), but any fast-draining epiphytic mix should do. As with other fine-rooted species, avoid overpotting by choosing a container that is just big enough to accommodate the root mass. For potted plants, I water on average every five days with some seasonal variations. My schedule for fertilizing is not exact, but my goal is to fertilize three out of four waterings in the spring and summer and less in the autumn and winter with a one-quarter- to one-half-strength solution of a balanced fertilizer. Because I use a reverse-osmosis system (RO) to purify my water and remove sodium, I also supplement all of my plants with a kelp-based fertilizer to be sure the plants receive trace elements and minerals that would be found in an unpurified water supply. Two essentials for growing Den. pentapterum are good water quality and plenty of air movement.
I have never timed the duration of a single flower, but it is measured in months. A well-grown Den. pentapterum can be in bloom continuously throughout the year. This fact, com-bined with its small stature, makes it an excellent choice for growing under lights or wherever space is at a premium. In the past, the species of section Oxyglossum were expensive and hard to establish. With active artificial propagation programs over the last decade, many affordable seed-grown plants are now available from parents selected for vigor and adaptability.
References
Baker, Margaret L. and Charles O. 1996. Orchid Species Culture: Dendrobium. Timber Press, Portland. http://www.orchidculture.com

Cootes, J. 2001. The Orchids of the Philippines. Timber Press, Portland.
Schuiteman, A. and F.E. de Vogel, 2002. Flora Malesiana: Orchids of New Guinea Vol II. CD. ETI/National Herbarium of The Netherlands.