With its sparkling flowers, lightly spotted terete leaves and rambling silver-white waxy roots, Sarcochilus ceciliae is a jewel of textural contrasts. This compact miniature is one of the easiest of the genus to grow.
The name Sarcochilus is derived from the Greek words sarx (flesh) and cheilos (lip), referring to the characteristically fleshy lip. The 14 species of the genus are distributed from Australia to New Caledonia, with Sarco. ceciliae occurring only on the east coast of Australia in Queensland and New South Wales. The 3/8-inch (1 cm) flowers are pale pink to rich magenta, although there is also an alba clone in cultivation. The flowering season is spring and summer for this successive bloomer, with up to 30 flowers per inflorescence. Individual flowers last for several weeks and blooming can continue for months. Almost invariably found as a lithophyte with some leaf litter or moss to provide moisture, this species usually grows where it receives full sun or light shade for much of the day. Some plants occur at low elevations, but the majority are distributed at an elevation of 2,000 to 3,000 feet (610 to 915 m) where they can receive light frost.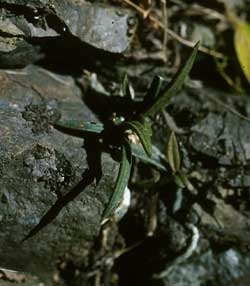 Sarchochilus ceciliae in situ
Photo: Ron Parsons
I water and fertilize Sarco. ceciliae as for most of my potted orchids. During spring and summer, they are fertilized with one-third- to one-half-strength solution for three out of four waterings. In the autumn, they receive fertilizer every other watering and that tapers to fertilizer one out of three or four waterings in the winter. This schedule is not a hard and fast rule, but more of a goal. Water frequently during the growing season and less in winter. Plants of the genus Sarcochilus do not have pseudobulbs, so attention must be paid to not let them dry out too much between waterings.

Grow mature plants in generally bright diffuse light (where a hand held 12 to 18 inches [30 to 46 cm] above the plant casts a distinct, though not sharp, shadow). Sarcochilus ceciliae can be grown mounted, but most people prefer it in pots. Choose a mix that is porous, retains some moisture, and does not get soggy. For mature plants, a bark mix with lava rock works well for me. For seedlings, provide more shade and a mix that does not dry out as quickly at the roots. For plants just out of flask, I have had success with a basic potting mix of sifted 1/4-inch (.5 cm) bark with added perlite, charcoal and tree-fern fiber. Whether potting seedlings or mature plants, it is important to position the base of the plant above the potting medium to prevent rot.

Provide good air movement for general plant health and a relative humidity more than 60 percent for optimum growth. Sarcochilus ceciliae is considered a cool grower and a minimum nighttime temperature in the 40s F (4.4 C) will promote good blooming. My plants have been unaffected by the occasional drop into the low 30s F (-1.1 C). This species does best with daytime highs below 90 F (32 C) but can withstand higher temperatures as long as it is well watered and humidity is maintained. The alba form especially seems to need cool nights to bloom. I have seen a beautifully bloomed specimen of a pink form that had 55 F (12.75 C) minimum nights, so a spot in the cool end of an intermediate greenhouse should work.