During checkout: select the "Orchid & Flask Orders" payment option.
You will be billed later.
Before you commit to buy, please read About Ordering
In the shopping cart: use your back button to return
Dendrobium pentapterum outcross #4140 ('JH' x 'Ron') (approximately 25 seedlings per flask).
The Species: This species is one of the easiest to grow of the Oxyglossums (a much sought-after section of Dendrobium noted for extremely long-lasting flowers). It occurs as an epiphyte in mountain cloud forests at elevational ranges of 2625 to 6562 feet in Papua New Guinea. The flower duration is counted in months not weeks and a well grown plant can be in bloom almost year-round.
Culture: Good quality water is essential, intermediate to cool-intermediate temperatures are ideal, with moderate to moderately bright light and good air movement. Give it even moisture throughout the year. It grows well potted or mounted (I prefer cork or bark for mounting) under much the same conditions as masdevallias and other pleurothallids. If you would like more background, cultural information and pictures, go to my article Dendrobium pentapterum.
Capsule Parent: Dendrobium pentapterum 'JH'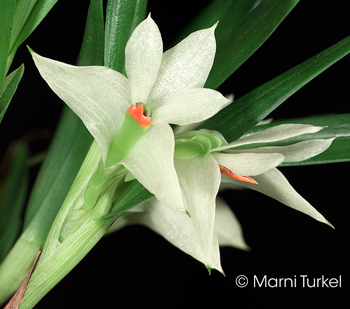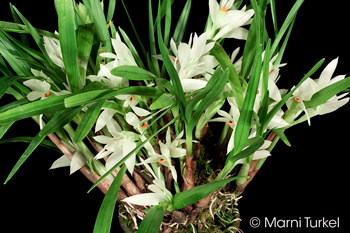 Pollen Parent: Dendrobium pentapterum 'Ron'